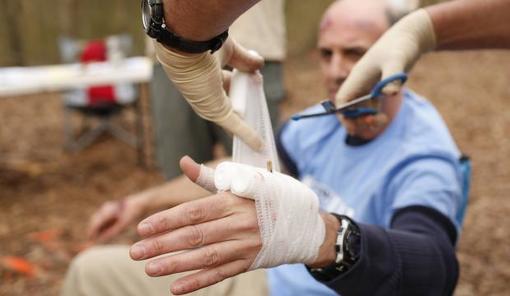 ​​​Off Grid Medic are an American medical training business that run demonstrations throughout the country on how to handle medical emergencies in instances where a hospital could be hours or even days away.
Off Grid Medic recognise that many injuries and illnesses worsen when separated from medical care by time, distance or circumstance and their aim is to increase survival chances through education and training.
The training includes the simulation of injuries that are commonly sustained in the American wilderness such as animal attacks, frostbite, knife cuts and burns caused by campfires. They proudly announce that their training sessions will go ahead come rain or shine, as who knows what conditions you may face should a real life emergency occur.
At PEEL Roleplay, we know that realistic patient simulation is important in clinical and communication skills training, to fully immerse the learner and prepare them for real-life situations in the future. If you think that our authentic patient simulation services could be of use to you, contact info@peelroleplay.com or call 01756 796176.
By Iain Wilkinson, Account & Programme manager at Peel Roleplay