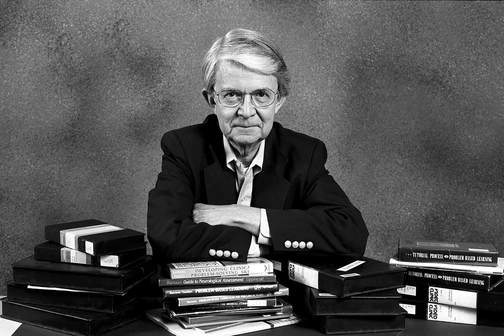 The use of Simulated Patients (SPs) in clinical skills training has the potential to impact us all as a society by providing medical students with the tools needed to communicate effectively with their future patients and in turn enhancing patient experience by creating an open environment within these clinical settings. We're all someone's patient at various points in our lives!
It seems obvious to us now that using SPs in medical education- allowing the simulation of potentially high-risk situations in an environment in which the student can learn from their errors without any negative implication to a real patient- is a great idea, but someone had to have that foresight first.
That person was American physician and medical educator, Dr Howard Barrows (28 March 1928-25 March 2011), who trained as a Neurologist and later worked as a Professor at various University medical schools in the US. This training and experience gave him an insight into both sides of the coin; receiving clinical training and also training medical students himself, so he was well-placed to identify the issues in the assessment process of medical students.
​
Barrows recognised that student learning in medical education relied almost entirely on written exams and knew that there was more to being a competent practitioner than could be assessed using paper and pencil tests so he pioneered the training of actors to act as Simulated Patients in order to assess students' communication and problem-solving skills, in turn allowing you to evaluate their progress authentically.
At Peel Roleplay, we are dedicated to the continuous training of our SPs in the latest approaches to simulation-based learning, to provide the best possible service for our clients' and their students. If you think Peel Roleplay could benefit your programme, please contact info@peelroleplay.com or call us on 01756 796176.
By Iain Wilkinson, Account & Programme manager at Peel Roleplay