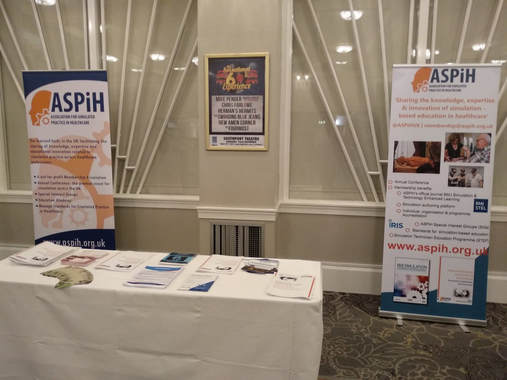 Jess and Laura from the Peel Roleplay team were delighted to be able to attend the ASPiH Conference 2018 last month, to network with other experts in medical simulation, to gain insight into others' practices and how those might work for us and our clients, and also to learn more about digital simulation and how this is being incorporated into some programmes.
ASPiH, the Association for Simulated Practice in Healthcare, is the professional body for simulation technicians and technologists. ASPiH is recognised as the professional association for simulation in the UK, that focuses on the development and application of simulation-based education and technology enhanced learning for the education and training of the healthcare workforce and patient safety improvement.
This year's conference, the 9th annual, took place at Southport Convention Centre and Dr. Kimberly Stone, Associate Professor of Pediatrics at the University of Washington and Attending Physician in the Emergency Department at Seattle Children's Hospital, was just one of the many enlightening speakers at the event. Other speakers included; Professor Nick Sevdalis, Psychologist and Professor of Implementation Science & Patient Safety at King's College, London, and Chief Editor of BMJ Simulation & Technology Enhanced Learning and Dr. Makani Purva, ASPiH President.
As well as many other simulation roles, Dr. Stone is President-Elect for the International Pediatric Simulation Society (IPSS), serves on the Board of Directors for the International Network for Simulation-based Pediatric Innovation, Research and Education (INSPIRE) and has been using simulation for interprofessional education, team training, environmental testing and design, and process improvement to improve patient safety for the past 12 years. Dr Stone's talk was particularly interesting to us at Peel Roleplay, as she has a vast amount of knowledge to pass on regarding in situ roleplay, which she uses in her process of working through any patient safety problems she encounters. In situ roleplay helps to bring any issues that may arise in a procedure or consultation to the forefront, where they can then be identified and a best solution considered.
At ASPiH, as well as various talks, there was an exhibition hall filled with stands held by sim-mannequin companies and tech companies who specialise in digital simulation, using virtual reality headsets to put the user into a roleplay setting with a digital patient. We were interested to attend various workshops focusing on the use of Augmented Reality (AR) and Virtual Reality (VR) in medical simulation, to learn more about the companies working with institutions to provide this service as an addition to their current simulation programmes. We have been reflecting on the abilities of AR and VR and how they could provide an ​engaging learning tool which could be used in an integrated way with our Simulated Patient actors.
The conference attendees were made up of clinical staff as well as simulation technicians and non-clinical staff from hospitals and Universities, looking for ways to improve their current simulation programmes. It is always encouraging and inspiring to see just how many people are involved in the education of medical students and professionals, constantly seeking new ways to teach communication skills for the long term goal of improving patient experiences.

We look forward to connecting with other specialists in our field in 2019, and potentially implementing some of the ideas we've gathered over the last year.
By Iain Wilkinson, Account & Programme manager at Peel Roleplay