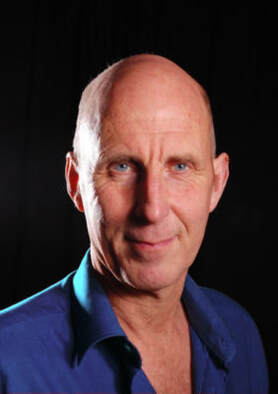 "I trained as an engineer", said Jeff, which was not quite what I was expecting.
Jeff explained that his first taste of acting was at an improvisation workshop on a holiday in Greece, fifteen years ago. "That lit the flame", he said. After a career based mostly in maths and science, he retrained in acting. After that, a one-day course in corporate roleplay at Mountview Theatre School led to work in roleplay for business and then – as so often happens – through meeting some actors who also worked as Simulated Patients he developed an interest in the training of medical students.
Jeff now works regularly in the South-West as a Simulated Patient. He plays patients with a range of medical conditions, giving constructive, supportive feedback to students in teaching sessions to help them improve and also taking part in student examinations.
Medical Schools throughout the country are now realising that Medical Humanities should form a key part of the course. This is relatively new – only a few years ago medical courses were entirely science-based and the idea of asking students to think about drama, or music, or poetry would be unheard of. "Medical Humanities helps team-working skills, gives the students creative and artistic awareness, improves their confidence and communication skills and helps the students to connect with each other," explains Jeff.
As part of Medical Humanities, Jeff runs two very successful drama-based workshops for medical students: Are you Having a Laugh? and Improv your Practice. This year, as awareness of Medical Humanities spreads globally, he travelled to New Zealand to give a talk at a Medical Humanities symposium in Auckland.
Jeff also works as a Life Coach and has found the skills involved in this to be very useful when giving feedback to medical students about their communication, helping them to reflect and think of their own solutions. This technique has been found to work far better than the old-fashioned type of Communication Skills teaching where the tutor tended to look at the student critically and announce "What you should say now is – – – "!
Most recently, Jeff has also been a Drama Tutor on cruise ships, running improvisation workshops which led to a very well-received comedy performance at the end of the cruise, where the audience enjoyed contributing too. All ages and abilities were included in the rehearsals and more passengers joined when they observed how much fun the group was having!
I asked Jeff what he considers to be the key qualities required for a Simulated Patient. "Versatility, adaptability and flexibility," he said. He also thinks that it is crucial to be focused on the learners' well-being and to help them to improve their skills and confidence.
Whenever I talk to Simulated Patients I am always fascinated by their many skills which they use in a variety of different kinds of work. This is most definitely true of Jeff, who summarised his work concisely: "I like using drama in an interactive way".
By Laura Thompson, Simulated Patient Manager at Peel Roleplay